Our TWO up to the minute test bays can test virtually every light vehicle on the road.

We're authorised to test classes l, ll, lV, V and Vll. The details of which are listed below.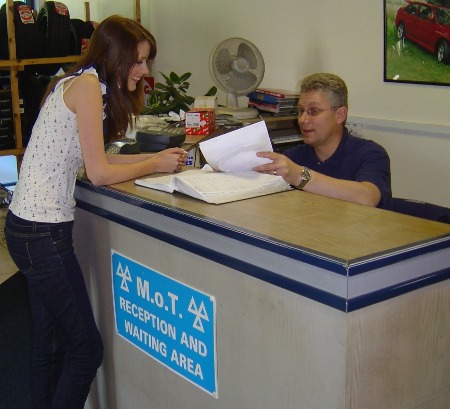 A test takes approximately 45 minutes and you are welcome to wait in our customer area where you can enjoy a tea or coffee, read the day's paper or watch television.

The age at which a vehicle requires a first Test Certificate is 3 years, except for Taxis, Private Passenger Vehicles and Ambulances which are all 1 year.

Vehicle Class

Classes l and ll (class l engine size up to 200cm3)
Motorbicycles
Motorbicycles with sidecar



Class lV
Cars (up to 8 Passanger Seats), Motor Caravans
3 Wheeled Vehicles (over 450Kg unladen weight)
Quads (max unladen weight 400Kg
or for goods vehicles 550Kg and max net power 15KW)
Dual Purpose Vehicles
PSVs (up to 8 seats)
Goods Vehicles (up to 3,000 Kg DGW)
Ambulances and Taxis
(Taxis and Private Hire Vehicles may be subject to additional local requirements)
Private Passenger Vehicles and Ambulances
(9-12 Passenger Seats)



Class V
Private Passenger Vehicles and Ambulances (with 13 or more Passenger Seats)
13-16 Passenger Seats
More than 16 Passenger Seats





Class Vll
Goods Vehicles (over 3000Kg up to 3500Kg DGW)